Paying Property Tax in the Alicante Province
Real Estate Tax (SUMA or IBI )
Taxes in Spain are split between state and regional governments. Here is your guide on paying property tax in the Alicante province.
Suma was created to manage municipal taxes on behalf of the City Councils in the province of Alicante. It's a local public administration and develops the application and management of the tax revenue on behalf of the City Councils and of other public administrations that delegate these operations on Suma. Paying Property Tax in the Alicante Region is very easy to do.
Real Estate Tax (IBI)
Tax on Economic Activities (IAE)
Vehicle Tax (IVMT)
Tax on Increase in Urban Land Value (IIVTNU)
Tax on Building, Installations and other Work (ICIO)
Traffic penalties, administrative fines
Charges and other public revenue of the municipality (Rubbish Collection Tax, Sewage, Non-parking Spaces and Dropped Kerbs, etc.)
Water treatment levy of the Waste Water Treatment Entity of the Autonomous Community of Valencia
Revenue of public right of the Water Users Communities
These taxes are paid to the SUMA. You can easily do this online by click this link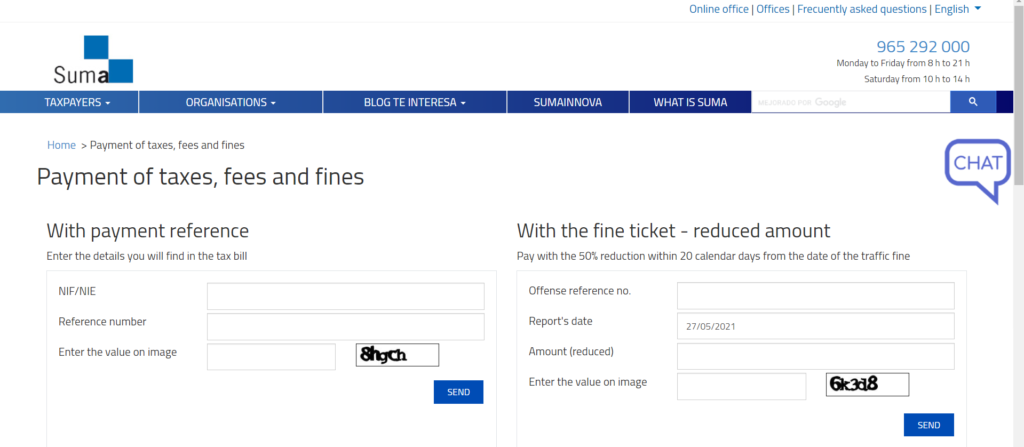 Now you simply fill in the form and click on send.
On the next page you will be asked how you want to pay; after the payment is successfully done, you can download the receipt.
Should you need to pay property tax in the Murcia region: here is a link to Paying Property Tax in Murcia